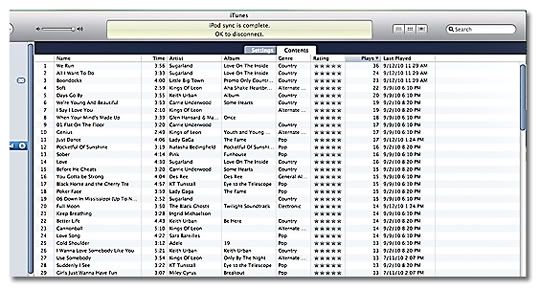 I once mentioned to an acquaintance, "Don't judge me by my iPod music," and that still hangs true. Normally I am an indie girl who dabbles in a few more popular artists. But lets face it, most indie artists are not known for their upbeat running music.
Therefore, I have given myself the free pass to listen to teenie-bopper, techno, and a whole host of music that would normally make me totally uncool. By acknowledging that they are only there for the beat, this automatically makes them acceptable. If anyone questions this, I give the standard answer, "It is imperative to keeping my cadence consistent."
That sounds plausible. And then I follow up with the clincher, "If you would like to come out on an eight mile run with me, I will show you how effective it is. I was planning on throwing some hills in for fun."
This comment usually receives the common response, "No, no! I believe you!"
So now the final countdown music is blaring on my internal radio. T-minus one week until the Fox Cities Half Marathon. Final preparation is underway and I am taking it upon myself to make sure everything is set up so I have the perfect race.
Of course that includes trying out some new tunes on my iPod.
Normally I would have done this a couple of weeks ago. Just like a new pair of sneakers, new songs take a bit to wear in. Knowing the lyrics is imperative to a good race. Because I will sing them out loud. Loudly. Just in case other runners forgot their mp3 players, I have their backs.
Life
::: Beckah Shae
To Travels and Trunks
::: Hey Marseilles
Rio
::: Hey Marseilles
Silver Lining
::: Rilo Kiley
Bulletproof
::: by La Roux
Wake Up
::: by Arcade Fire
According to You
::: Orianthi
What's it Gonna Be
::: Orianthi
Shake it
::: Metro Station
Lose Yourself
::: Eminem
When You Were Young
::: The Killers
Whine Up
::: Kat Deluna