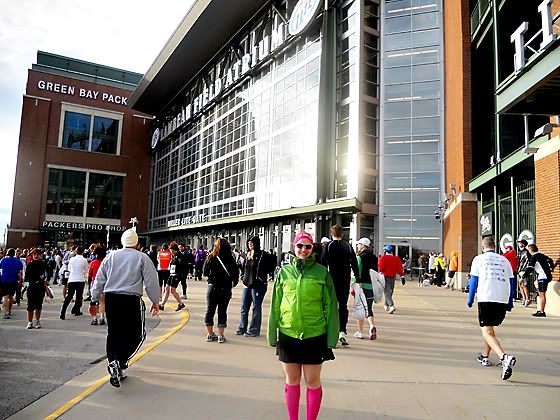 5:00 am in the morning on May 15th I woke up extremely nervous, but also very resolute. It was the morning of the
Green Bay Cellcom Marathon
. The day of my first full marathon.
Booyah!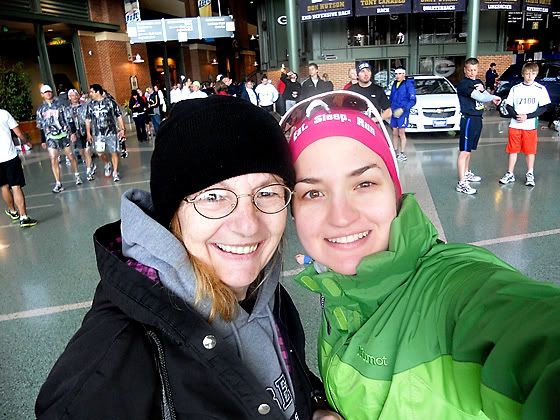 Making the morning trip to Green Bay with me was my personal cheerleader/photographer/mother extraordinaire. She wears many hats, and today it was a stocking cap because although it was raining and windy the day before, on this day it is just cold and windy.
The start was at 7am on the dot. This race director means business. Knowing that this is my first marathon which means I have really no expectations, I start near the 4:45 pace group but my main goal is to just finish.
Can I just say that I love that purple NorthFace jacket the gal behind me is wearing. I admired it as she promptly passed me. Looked for it later on the course, but I'm guessing that was not a throw away jacket.
Also note, I am not grimacing in that photo--
yet
--I'm looking for my mom.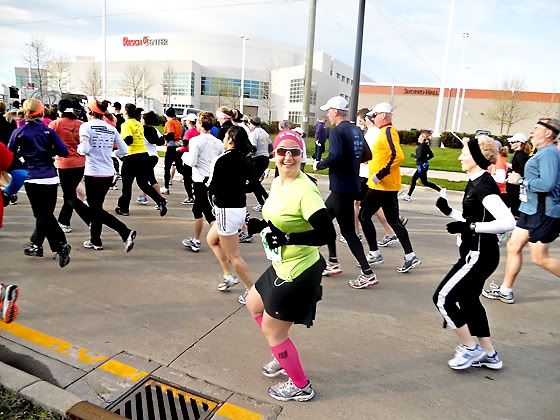 Mom was diligently waiting for me up a head. She was calling for me to pose, but the gal behind me yelled out, "She can't stop, she's running a marathon!"
I gave her a wave and went on my way knowing I would see her again between the 4 and 5 mile mark.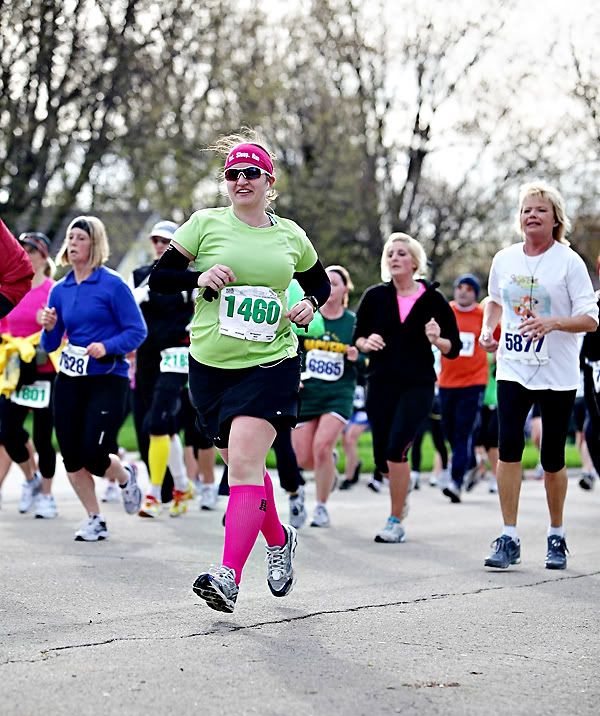 One of my coworkers was about at this point along the race route cheering on her daughter who was running the half marathon. I mentioned what I would be wearing to her the day before. She saw me a couple times on the race route. Both times she credited my awesomely bright pink socks for spotting me in the crowd. They are not just for compression, they ARE a fashion statement.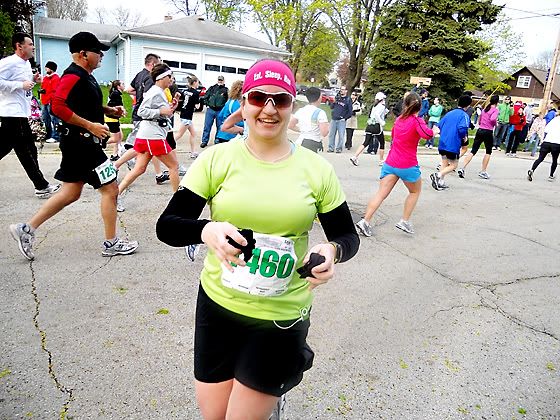 When I saw my mom again around the 4.5 mile mark, she was on the other side of the street. I tried my best to play frogger and make it across the street without getting in front of anyone. I kind of liked my gloves, so I did not want to drop them on the course. So quick photo op and glove drop off.
Five Mile time: 48:50
The first miles on the course were through a residential area with lots of turns and hills. People kept yelling, "It's all down hill from here" when we would reach the top of one.
I would like to take the first time marathon coordinator's mantra instead, "It's a
smooth, gentle decline
from here." My shins appreciated that thought.
Ten Mile time: 1:38:38
As we were about to approach the part of the course where the marathoners turned right, and half marathoners turned left, I thought back to the expo the day before during the race course presentation.
"Full marathoner's plug your ears for a moment," the presenter whispers conspiratorially, "Half marathoner's when you hit that turn point Lambeau Field will be in your sights. You are almost done! This is when you start to laugh at the full marathoners because you are about to enjoy some beer and brats and they have another couple hours to go. Okay, half marathoners plug your ears."
"Now full marathoners listen up," the presenter continued, "When those half marathoners turn to the left, you can start laughing. Those pansies have nothing on you!"
At this point I'm kind of in agreement with him, I'm feeling great and thinking, "See ya later half marathoners!" This mentality is going to come back and haunt me in about six more miles.
13.1 Mile time: 2:10:12
We turn down a more commercial area with wide open spaces between buildings. This is our first experience with the open wind. So far the residential area has been blocking quite a bit and also mostly at our backs.
One parking lot that is not paved, but has gravel and dirt takes a gust of wind. It kicks it up and a whole pack of us runners have to shield our eyes and run sideways for a moment until the wind drops for a second. That was the first sign things were going to be a little rough.
15 Mile time: 2:31:01
After we pass the 16 mile mark we cross over a bridge and literally hit a wall of wind. On a normal day miles 16 through 22 would be beautiful. They are on a paved trail along the Fox River. Today it is going directly Northeast and into 20-40 mph winds. There is little blocking the wind, and this six mile stretch is not just hitting the physical runners wall, there are moments when I ran into a physical wind wall.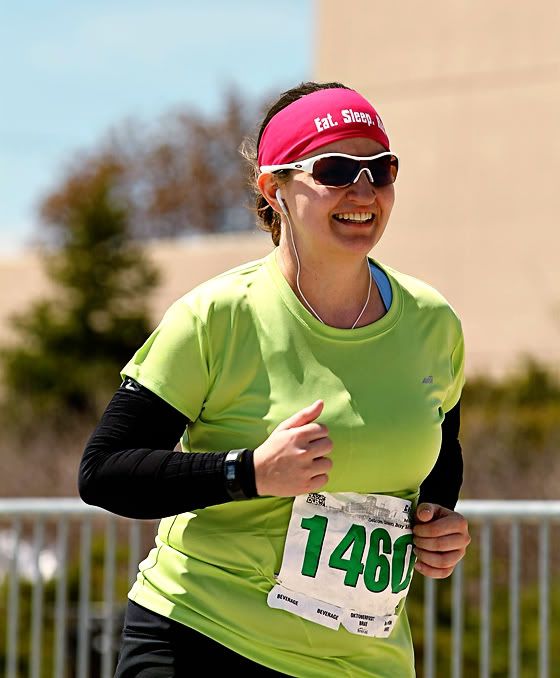 This face is not a smile, it's a grimace in disguise. I choose to walk though water stations during that stretch of the race and tried to draft off a couple of folks. But most of the time I was working this path on my own.
The highlight came right before mile 20. A church congregation brought in about 200 people to cheer, yell, and encourage the runners. Seriously, I could have cried at that point, their enthusiasm took my wind battered body and helped drag it over the bridge and get the wind literally at my back.
Mile 20: 3:31:17
At this point I am just thinking about seeing my family by the finish line. The highlight of this race is the final leg is a run around the inside of Lambeau Field, home to the current Superbowl Champion Green Bay Packers.

I'm dreaming of touching the tundra.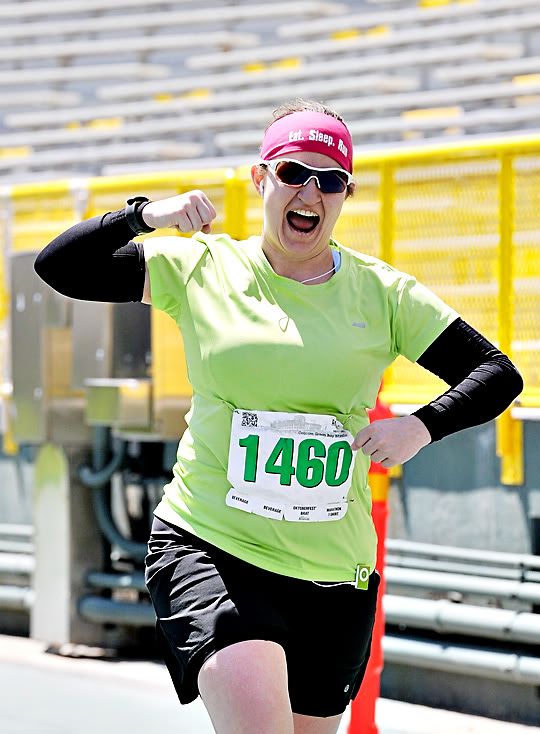 To get into Lambeau we had to go through a long concrete laden tunnel, and at the end we emerge from the players tunnel. I may or may not have hammed it up a bit for the photographers on field.
And on the other side I am trying to get the crowd to make some noise as I come in.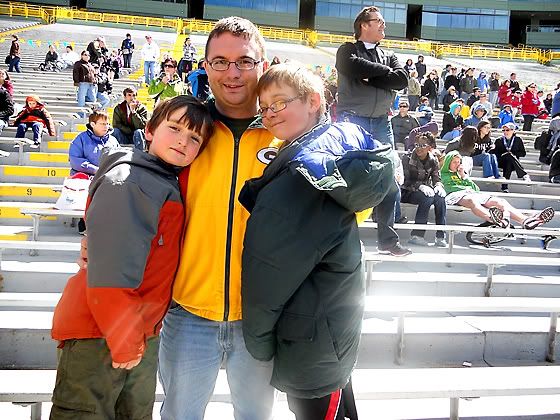 A sight for sore eyes, my favorite cheering section. The big guy in the middle has an awesomely loud voice perfect for cheering on his favorite
only
sister. Back in the day he was also a state champion cross-country runner.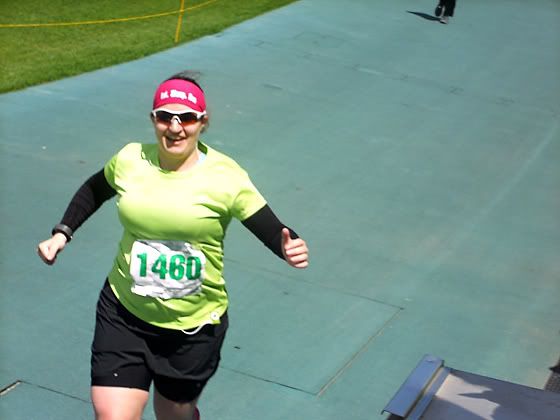 Coming in for the high fives. Darn wispy hair is still giving me the
Donald Trump comb-over look
.
Here is a closer look at my run by:
And finally back out of the stadium toward the finish line. My cheering squad rushed out to catch me finish my first ever marathon in 4:53:18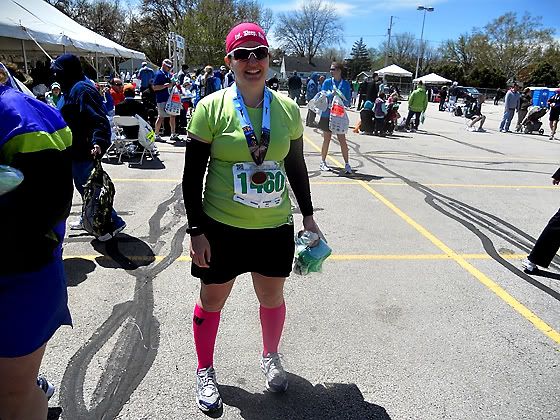 Not the fastest run by any means, but I kept thinking to myself, "Be Courageous". This run is me against myself (and
a ton of wind
). At the end of the day, no matter what my time came in at I could now say, "
I am a marathoner
".
And since the Packers did just win the Superbowl, the metals were inset with a bit of good old pigskin. I think this is my favorite metal so far. Especially since a couple days later it was confirmed the course was
800 feet too long
and adjusted our times. So in less then a week I had a new PR.
Not too shabby if you ask me.
Bonus benefit of this marathon, after I collected my metal, we were treated to brats and Stevens Point beer. Only in Wisconsin.