A long overdo race report. Part of the reason is I am trying to block parts of this race out of my mind. Not because it was awful or I was in pain.

Because it rained for all 13.1 miles.

And as I crossed the finish line it began to flurry.


My amazingly awesome personal photographer (aka Mom) came outside and snapped a few photos. She immediately ran back into the hotel where the packet pick up was, stopped in the restaurant, and enjoyed a hot chocolate while I enjoyed some liquid sunshine. Smart woman.
This race was always suppose to get my brain back into race mode after the long winter. The problem was, I kind of psyched myself out even before I started. The thought of running in the constant rain for two hours was not something I enjoyed.
Mistake number one: letting my brain think negative thoughts before even hitting the pavement.
Mile 1: 8:58/mi
Mile 2: 9:00/mi
The first few miles out of the gate where we winded through the UW Oshkosh campus I just enjoyed running with the crowd. The rain was light, but consistent. There were some spectators out cheering and that made it more festive.
Mile 3: 9:13/mi
Mile 4: 9:10/mi
Between mile 3 and 4 we hit a path around a cemetery. Insert extremely cheesy race signs, ala "
these guys are dying to cheer you on
". Yuck, yuck.
It was also about this part of the race when we were on the trail that the race turned from a traditional half marathon and become a muddy warrior dash. Folks started off trying to maneuver around the large mud puddles.
That lasted all of ...oh... a half mile. Then folks began embracing it and ran straight through. Mud splashed. Shoes were sopping wet. Good times.
Mile 5: 9:33/mi
Mile 6: 9:42/mi
Around mile 6 there is there is this little loop where you go over a bridge and catch a glimpse of the faster runners who are about 2.5 miles ahead of you. As you run in the opposite direction, it is fun to cheer folks on, but then I remind myself of a painful reality:
It is still raining, a little harder then before. They are 2.5 miles closer to dry socks.
Damn it
.
Mile 7: 9:46/mi
Mile 8: 10:15/mi
Mile 9: 10:13/mi
Mile 10: 10:00/mi
Having gone through several neighborhoods, the route brings us back to a main street. The rain has held back most of the spectators, so I take the honking cars as my encouragement.
It is also at this point we go through a small paved trail area. My feet are drenched by now and I am stuck behind a gal who is blocking the dry portion of the path and walking at this point. There are about a dozen of us who are contemplating a couple options. A) Politely ask her to step aside so we can pass; B) Walk and wait for a break to pass; or C) Trudge through the puddles.
A couple grunts behind me were probably thinking of an option D) Push her out of the way.
I went for the "A" option, "On your right!" Thankful she realized the race running faux pas and made way. No worries.
Mile 11: 10:27/mi
Mile 12: 10:34/mi
Mile 13: 10:25/mi
The last few miles were directly into the wind and in the last stretch we had to charge over a bridge. I will give kudos to my running gear for at least keeping my under layers fairly dry.
I will also give kudos to the speed walker that essentially rocketed past me.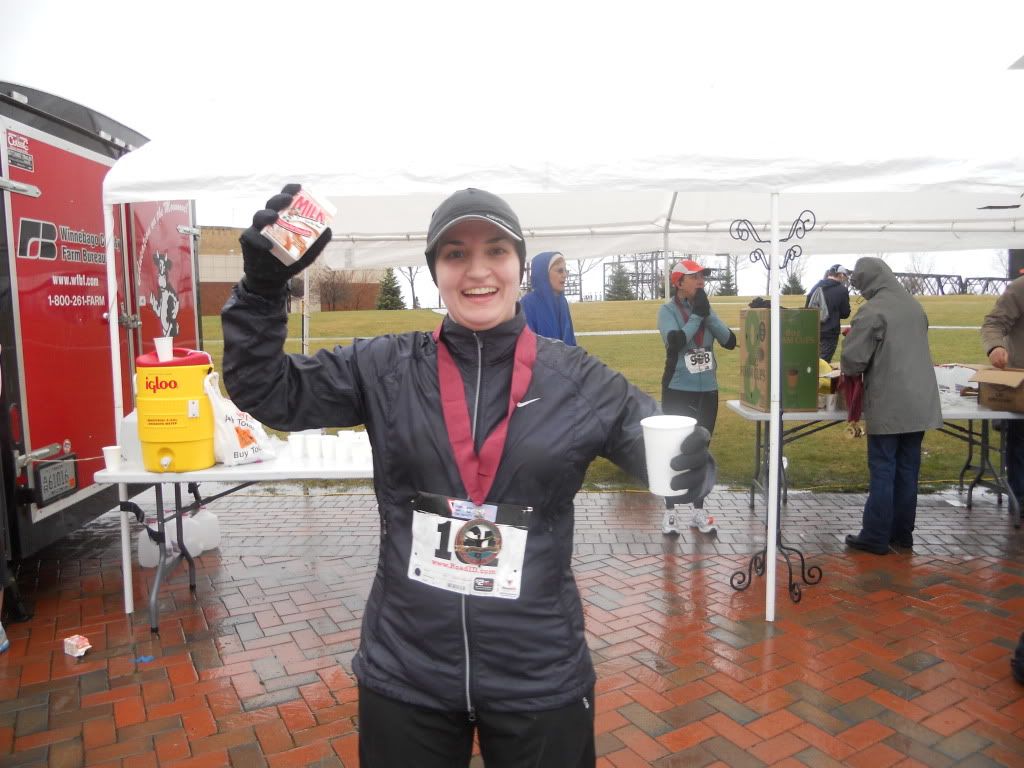 Mom was at the finish line to capture my joy at completing the race. My victory chocolate milk in one fist, good old water in the other. Ignore my totally cheesy smile.
Final chip time: 2:16:10.4. Not even close to my PR. But I finished. Lesson learned, should have just gone for it and let my brain stop getting those negative thoughts.
That was until I was chewing on some pizza and it started to flurry. That warranted some curse words. Did not care they were giving free massages, grabbed mom and ran to my car and blasted the heater. Who needs an ice bath when you have been subjected for one for the past couple of hours.
All this gets me thinking,
what are the best ways to overcome really rainy cruddy weather on race day?