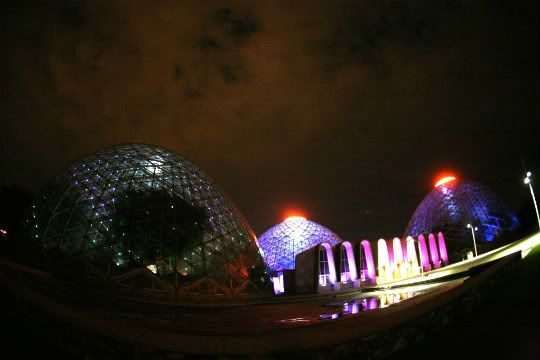 I would have run eight miles yesterday. I truly would have. But I was on the road, coming back from a beautiful family wedding down in Milwaukee. It was in Mitchell Park, right behind
the Domes
. Absolutely gorgeous at night--the shot I took above hardly does it justice. And no snide comments about they
might
look like. Sometimes an apple is just an apple.
I would have run this morning, but my kitties were all curled up on my bed and we were comfy. One bundled up by my hip, the other by my shoulder. It was surround sound purring.
Coulda, woulda. Full of excuses, I am.
But I do not think this warrants any
retribution
,
yet
. In my defense, I had no training schedule for last week, figuring I would take a breather after the half marathon but still going out for a short run and a stint at the gym. But starting tomorrow, all bets are off. So here is my very public plan for the week:
Monday
- Off
Tuesday
-
4 mile run in the A.M.
Wednesday
-
Strength training (upper body and abs)
Thursday
-
4 mile run with
Vero
Friday
-
Strength training (lower body and back)
Saturday
-
5 mile run
Sunday
-
Cross training - 45 min swimming


A bit of a step back in mileage, but I only have short races in October, and build up for a 10K and 15K in November. I am also excited to switch things up for the winter and work on some cross training to start some spring dualatholons, and maybe even a sprint triathlon.
Blog, I am depending on you to help keep me accountable.
*****


On a side note, tonight I am going to make some pesto, because I have been craving it and the store bought version is so expensive. *
drooling
* Can hardly wait.