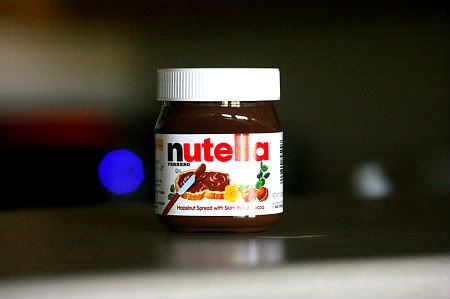 Ode to nutella
I discovered you in Paris, a breakfast addition to the pastries, I was told. Inexpensive and available at any Tesco. Come home to the states and cannot find you in any of the local stores.
My heart breaks slightly.
Alas, I wander those same aisles some years later and my eyes grow wide. There mixed amongst the peanut butter and other spreads is a little row of nutellas. Pricier then London, but worth the sacrifice.
But more than just pastries, your delicious hazelnut adorned strawberries, gram crackers, bagels, oh my!
Full of sugar, pushing the glycemic index. Add to banana and the combination is purely lethal. Some argue that the sugar is too much, I say, "Is good taste too much to hope for?" But there are
alternative recipes
that may give the same punch with less of the sucrose.
Despite the small controversies, nutella, you are my preferred treat, a small serving size of
umph
to carry me through a workout. A walking advertisement I have become, but you taste so yummy I give you my support.
After all, you fit in my backpack with no refrigeration, easy to carry on journey's away. A simple solution to give taste to the tasteless foods. Smooth as peanut butter, but tasty as chocolate.
Nutella,
you complete me
--and my dietary needs.
*********************************


Homemade nutella recipes
The small jars are just over $3, and the large are over $6. I am a cheap little bugger, so I am wondering if it would be more economical to make my own. Maybe tweak the recipes a bit to healthy them up a little (but not too much, I like my suga').
*********************************
The reason nutella is on mind
Last night was a short recovery run, with this evening being my longer 12 mile run. I woke up at about 5am and after hitting the snooze button a couple times, and my cats jumping on me with annoyance. After feeding the felines, I headed out to the gym.
I did a light strength training workout because I have found it helps give my carriage better posture throughout the day, and consequently when I run later on.
After pumping iron, and dodging all the
gym buffs
, I had this sudden craving for nutella. Knowing I had none at home, I made a stop at the grocery store and picked some up. The store clerk gave me a curious glance. I am sure she was thinking,
"What an intelligent, young, fit lady coming into the store before even the retirees to beat the crowds and pick up some of this magnificent nutella. She is a smart one!"


I smiled at her for recognizing my intelligent decision before swiping my card and headed home to cover all the food in my refrigerator with this delectable spread and begin my morning grazing.
Thursday is off to a wonderful sugar-high start.