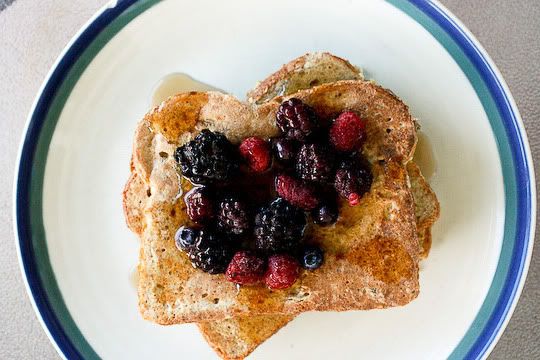 The morning was brisk, but warming slowly. The fall air had a perfect crispness and I wanted to celebrate it with one of my favorite breakfast meals: French Toast. But I'll come back to that.

I also wanted to be well fed before my 5K that started in an hour. Especially since my body had been dragging during my training runs earlier in the week.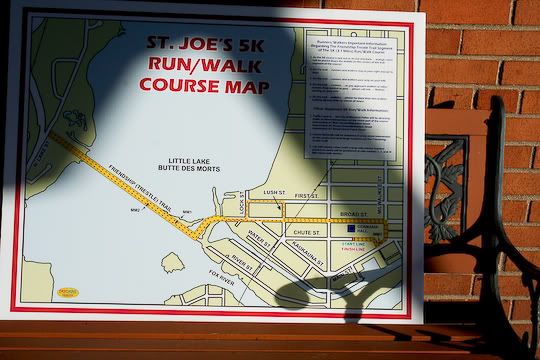 It was the 17th annual St. Joes Food Pantry 5K. This is a fun easy run for a few reasons.
First, it is an awesome cause. There is a minimal entry fee, but you are encouraged to bring can goods to the race and help stock St. Joe's shelves. Win-win for everyone.
The Beautiful course is a major bonus. Half of the race is run over the Trestle Trail, which used to be an old railroad line across Lake Butte Des Morts.

The rockin' door prizes. They have a ton from local sponsors. And although the odds are in my favor that I should win one, I never do. Nonetheless there are loads of goodies to be won, and I did get a stick of Noodles and Co. chap stick "

Asian Mediterranean American

". I'll take the small victories.
It's a Portsmouth Start, so anyone can be the winner.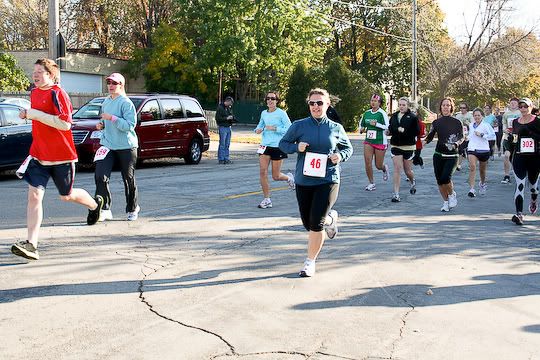 Despite all the awesomeness of this 5K, I was battling my own demons. Every run over the last week I have been feeling sluggish. My pace times have been fairly close to what I am used too, but for some reason I just don't
feel fast
. I do not know if there is a runners term for this sluggish feeling other then,
uhggg
.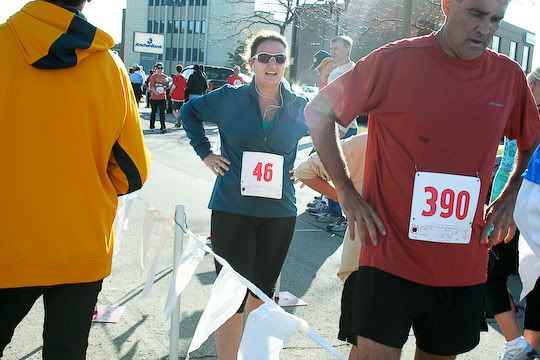 But I finished the race strong, unfortunately I did not know my official time until a few days after the race. Part of that was my problem because I forgot to set my watch. The second being that although there was a clock at the end of the race, it did not necessarily mean that it was anywhere close to my time since it was a Portsmouth start.

For those who might be curious to exactly what that entails, runners start in waves based on age. Runners on the more mature end of the scale get a bit of a head start, as well as those on the very youthful side (i.e. 12 and under). As the ages move toward the late twenties early thirties, the waves start closer and closer together. My wave was #34, so I started roughly six minutes after the first runner.

When all was said and done, I finished in 26:55 after adjusting for my Portsmouth start, which put me in 154th place. If you took out the Portsmouth start and just ran it like a "traditional" race, I jump to 132nd. Not a big deal to me, feeling as sluggish as I did I was just happy to cross the finish line.

The best part was there was a young pre-teen who finished just ahead of me who turned around in the chute with a huge grin and put his hand out to me for a high five, "Awesome race!"

"Right back at ya!" I 'heart' runners of all ages. We are pretty cool people.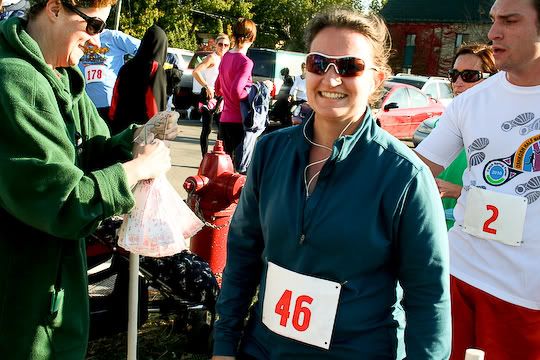 The awesome thing about this start, the winner of this race finished with a time 34:54 min. Because of her adjusted start time, she beat out the second place finisher who had a time of 17:19 min. And both of them beat out third place finisher with the fastest time over all: 16:45 min.

The best part, the winner was a women 84 years young. Dang girl, if I can finish a 5K in under 35 minutes when I am in my 80's, it will be a miracle. For obvious reasons, she received a very healthy round of applause and cheers when she accepted her 1st Place metal.

So back to the French Toast. I am fairly certain the only reason I was able to drag my lazy behind across the finish line was thanks to this little yummy friend. So not to leave ya hangin', here is how I make my favorite breakfast food:
The Cast:
1/4 cup wheat flour
1 cup Almond Milk, Vanilla flavored

1 pinch salt
3/4 cup egg beaters

1/2 teaspoon ground cinnamon
1 teaspoon vanilla extract
1/2 teaspoon nutmeg

8 slices of wheat bread
The Method:


Add the wheat flour to a mixing bowl. Slowly whisk in the almond milk. Stir in the egg beaters, cinnamon, vanilla extract and nutmeg until smooth.


Get out the good ol' frying pan and turn up to medium heat. Soak bread slice in the mixture, and flip to make sure it is thoroughly saturated with the yummy batter. Pull out of mixture and gently hit it on the side of the bowls to get out the excess batter.

Cook on frying pan until the side begins to golden. Toast may raise in the pan slightly due to the flour mixture. Top with berries and a a few tablespoons of Maple syrup.
Then go run a 5K. --
Wait, how did that get into my recipe accordion?